How to keep it real while growing your personal brand online
Feb 01, 2023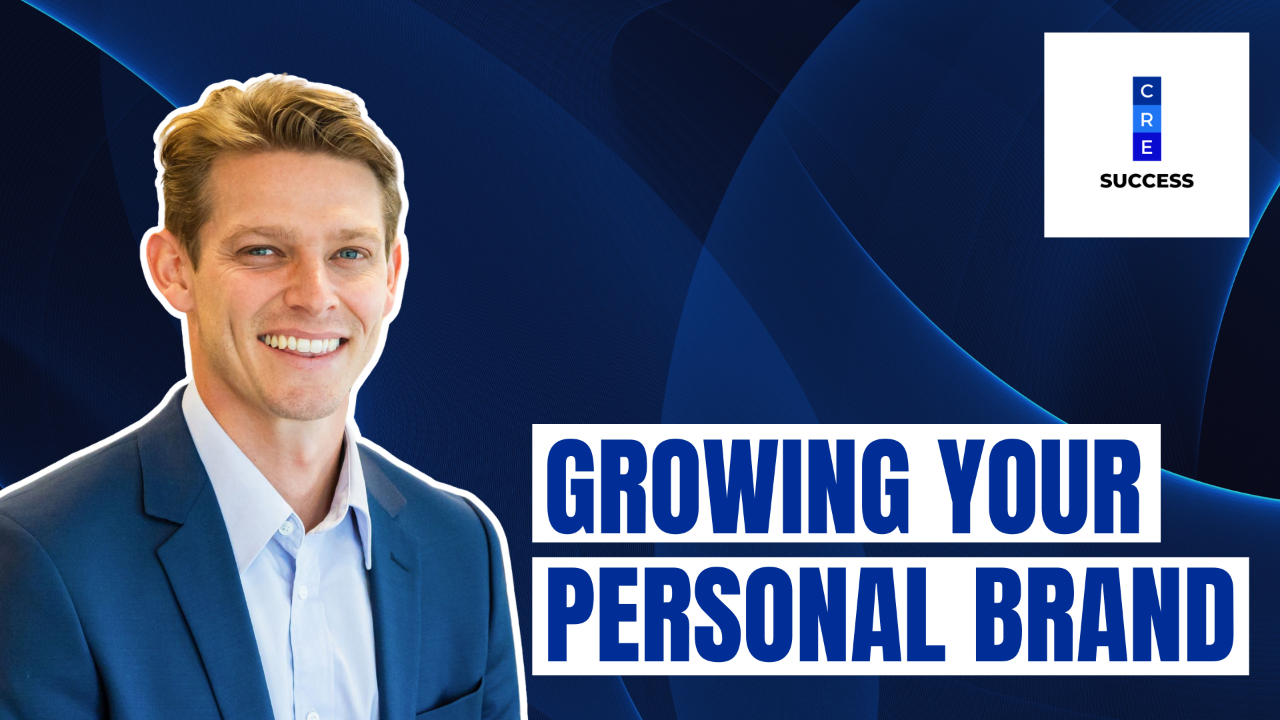 A lot of commercial real estate agents and leaders I work with want to grow their personal brand using platforms like LinkedIn.
And even though they can see others in the market succeeding at this, they're often worried about seeming full of themselves if they do the same thing…or they're too self-conscious to share content online.
Other people I speak to just don't know what to post, so they never get started.
If you can relate, then keep on reading!
Brent Griffiths is a former professional athlete who is now Director of Office Sales and Leasing at Realmark Commercial in Perth, Western Australia.
Brent knows how to share content on LinkedIn in a way that authentically builds affinity with his network, grows his authority in the marketplace, and creates more awareness about his listings.
One of the key takeaways from my discussion with Brent is this: If you don't try to be something you're not, then you're more likely to succeed in growing your personal brand – and your production.
To see how Brent does it, take a listen to episode 125 of CRE Success: The Podcast - or read the interview transcript below.
And, to find out about the Top Performer training that I took Brent and his team through, click here for more information.
Episode transcript:
Today on the show, we're talking to a former professional athlete who has made the switch to... can you guess what industry? Commercial Real Estate of course, specializing in office in Perth, WA (Western Australia), so stick around.
Hello, and welcome to CRE Success: The Podcast. My name is Darren Krakowiak. And I help commercial real estate leaders to develop their people and to grow their business.
As always, really appreciate you taking the time to join us for another episode.
And if you are listening to us on your favorite podcast player, and you're not already subscribed to the show, maybe you're listening on Apple podcasts, for example, hit that plus button and make sure that you are subscribed, so you do get informed whenever we do release a new episode.
And the more subscribers we have, the more that the algorithm Gods will be, of course, recommending the podcast to more people who may be interested.
Very, very excited to introduce you today to our special guests, Brent Griffiths.
Brent is the Director of Office Sales and Leasing at Realmark Commercial, which is a very large agency, around 250 people in Perth, Western Australia.
And we're going to be speaking to Brent, right now.
--------
Darren Krakowiak
Brent Griffiths, welcome to CRE Success: The Podcast.
Brent Griffiths
Thank you. Good to be here.
Darren Krakowiak
Brent, you've been a professional athlete before you started in commercial real estate. So I thought that would be a good place for us to begin. Can you tell us about your past? As an athlete playing soccer professionally?
Brent Griffiths
Yes, certainly. Yeah. It feels like a long time ago now to be completely honest. But I played for professionally for about 10 years, over five different countries. So started in the UK. And then sort of segue that was my junior careers and then sort of segue over to Australia, where I played seven years for Perth Glory, Wellington, Phoenix. And then eventually in Central Coast Mariners, where we won the A-league with the 2012–13, where we also had Graham Arnold was our head coach. So, it was a great experience. And then sort of in the latter years finished up in Malaysia and Indonesia.
Darren Krakowiak
Awesome. And how did you eventually land in commercial real estate after such a great experience in five different countries playing sport competitively?
Brent Griffiths
Yeah, pretty, pretty diverse background from the two, but basically my father was always in property as a developer and also builder. And then in the later years, we did some sort of syndications and such through some of the football, as I knew, and personally and always found it quite interesting to see how these product projects sort of got off the ground and came to fruition. And I think it was a natural progression into property. And I found my niche and commercial property through my father. And also, actually a gentleman called Nick Tanner, who anyone in the Eastern States has definitely who might have heard of Chicken Treat and Red Rooster. So, they originally started chicken treat. So, he was the previous owner of Perth Quarry and gave me an opportunity in property through his son in law.
Darren Krakowiak
So how does competitive sport prepare you for a career in commercial real estate? What can you draw from that experience that you could bring into our industry?
Brent Griffiths
Yeah, look. Like anything, obviously, is competition in any levels of life. It depends on what stage you want to get to in how high performing you want to be. But I think the sense of simple principles from sport relay into a sort of working life and working careers, you know, ensuring that I'm eating right, drinking water, sleeping. I have a plan in mind and what it is that I wanted to do. I'm structuring my day. And I know what my outcomes and what my overall goals are. And I think that can be transitioned into any sport in any working career.
Darren Krakowiak
And now your dad obviously had that experience in property, but what did you have to do to develop yourself to become a credible practitioner in commercial real estate?
Brent Griffiths
Yeah, I think my mentality and I guess that it's hard to tell some of the younger people coming into the industry these days because everything seems quite instant with the likes of TikTok and Instagram and overnight success. But, you know, my football career in Soccer Korea didn't happen overnight. It happened over 20 odd years, day in day out going down to the field and training. And basically, although I must admit, I didn't love property or commercial real estate when I fell into it. I did, however, had the mentality that if I put my mind to it and really persisted and sort of mastered the skill of commercial real estate, that I would eventually be good at it, and that could lead on to other areas. And basically, I would dare say, the first two years, especially in 2016, when I came into was quite depressed, the market. But after about a year and a half, I had some small wins, that made me realize that if I did x, and I did it consistently, then I would get the outcome of why. And as I would get better and better and better, and put more hours into it, then, you know, my career would blossom. And I'm pretty thankful that I took that philosophy from football and my sporting career into commercial real estate, I'm really just persisted with it.
Darren Krakowiak
And has your career sort of gone as you would have expected? Or have there been some surprises along the way that you can share?
Brent Griffiths
Look, yeah, I think. You know, taking from your sort of one of your modules of having a growth mindset, I always believe I've had that. You know, can do attitude and the growth mindset that even the setbacks that I would learn from it, you know, oh, I wish I was doing something else. Like I mentioned before, it was a pretty depressed market in 2016, when I came into it. I used to hear stories that you'd get multiple offers on properties when the first day came to market, and I never really saw that. So, it just made me realize that I have to work a little bit harder and smarter. So probably, you would hear the war stories of the war veterans that have been around for years saying that they're lining up. And they used to be able to bring multiple offers to landlords and that sort of thing. And I never saw that. So, I guess, for me, hearing that, and probably realizing that I was going to have to really work hard. Doing it was probably the biggest surprise. But like I said, I just think the persistence on doing it. But I guess the other side of it was, I really enjoyed, really, really enjoyed the face to face the contact meetings, the coffee's, the catch ups, and that it was taking me into different diverse backgrounds. And it could be anything from mining to education to retail side of it. And it was pretty, pretty diverse. So, there was lots of different areas and categories that I was dealing with.
Darren Krakowiak
You mentioned TikTok, and Instagram before. I'd like to ask you about LinkedIn, because I've been quite impressed since I've known you with your profile building efforts on LinkedIn. You're quite successful in terms of generating engagement and also, in some way, leveraging some of your past experience in professional sports. So, what specific recommendations would you have for people listening on how they can stand out in their market from a personal branding perspective?
Brent Griffiths
Yeah, well, thank you. First of all, I appreciate the kind words. LinkedIn and any social media platform are just a way of showing yourself, I think. And I think being your true self on social media is probably the best way. And people can feel that no matter what it is that you're doing. LinkedIn was probably the easiest way for me in a professional environment to be able to show what it was previously that I did and what I'm doing now and then have those synergies link up. I didn't feel like I can do that as well on say, Facebook, or Instagram. And, and I haven't tried TikTok because I am terrible at videos, or I think I am. But I think the ultimately the might one bit of advice to someone would be that if you have a lover or a passion that you do outside of your working career, maybe try and find a way in which that you can bring them too together. And I think from my side of it is, I I'd like to think that I can have a joke about myself. And I like to feel that I can try and bring a bit of humor into some of the stuff I do. And then obviously, if it needs to be serious, I can take that serious side as well. So, football and sport is a really easy pathway to bring people together. And I feel like although it seems like I'm leveraging that position, it feels quite natural for me.
Darren Krakowiak
It's good advice. Thanks for sharing that. Now, Realmark is quite a force in Perth and our listeners outside of WA, they're probably not familiar with the brand. So, can you tell me a little bit about the business and what sets it apart from other agencies?
Brent Griffiths
Yeah, now Realmark is actually a bit of a household name in WA. It's been around for 33 years now. And actually, believe it or not started in commercial real estate but then probably got his most success in residential property.
Darren Krakowiak
I didn't know that. All right.
Brent Griffiths
Yeah, a bit of background on it. So, it started with John and Anita Percudani who were actually as we've been doing this interview, both have walked down the hall, meeting on board in the office as we speak, so they're actively involved and nurturing talent coming through. But we've got nearly 230-250 people working in the company across from Dunsborough up to Port Hedland, Karratha, Broome, and multiple franchises in WA. I would dare say that we have market share, especially in the residential space. The commercial is certainly a growing brand that we've got. And it has been around for a long time, but certainly starting to get more headway with some heavy recruitment. But yeah, I would dare say that we do have plans and we are looking to head Eastern States and currently have a DFO in Adelaide, which we've just launch and has turned out. We'll be launching in, I think, about six months.
Darren Krakowiak
Okay, I didn't know that you had expansion plans coming, so that's exciting. So, what do you look for when you're recruiting new talent? You say you've got plans to grow, what are you actually looking for within people in terms of the attributes that are going to fit well into what you're growing within the business and for your team specifically?
Brent Griffiths
I think we took a football factory mentality, and a very sporting, obviously hands myself background of a 'no dickhead' policy. Sorry for that one.
Darren Krakowiak
That's all good.
Brent Griffiths
Yeah, and then with that has been emulated and copied throughout AFL and soccer and multiple sports. It's a locker room environment, and we can feel that and we want to make sure that the people that are in the room that we're seeing every day that we want to be a mate with and can work with and have a good working environment. So that's probably the key attribute. I think we have nurtured and gone for younger talent, to be completely honest. And the reason for that is because of that football factory mentality is, it's been a very competitive market here in WA, for agents. There's a lot of agencies here, there's a lot of tier one and tier two agencies. And we weren't in a position to be able to go on, you know, pay ridiculous salaries for someone more established. So, we had the mentality of trying to train them up. And hence, using yourself, Darren will be talking today as part of that process. But I think attributes of hard working, they're trying to do things a little bit smarter than then potentially work harder, but like a bit smarter and trying to do things a little bit differently, thinking outside the box, creative. Again, the culture that we're trying to embed was very important. And that goes down to the 'no dickhead' policy. And just honestly, just good people.
Darren Krakowiak
Alright, I think, 'no dickhead' policy, that's acceptable for this forum. So, I don't need to get the big button out. Thanks for mentioning CRE Success. And I do want to ask you a couple of questions about some of the work that we've done together, because you appointed me to come and do some training with your team. It was a six-module program called Top Performer. Can you tell me, what was the reason why you decided to appoint us to do that work with your team?
Brent Griffiths
Yeah, I think no, definitely, I think there was a few reasons to be completely honest. I think the necessity to learn is always going to be there no matter what walk of life and wherever you're at. And we can always learn. I think you managed to, in my personal opinion, is corner a bit of a market in Australia, for the services and the platform that you provide. I don't think there's many people or many businesses out there that I've seen that are doing and offering it quite like you do. And also, is agile to be able to either jump in a plane, do it by zoom, mix up the programming, be able to work in with the client. So that flexibility was something that we certainly felt was aligned with us and worked well with us. I think we did have as mentioned before, a younger group of people that we want to invest in, and there's no better way to invest in younger talent, and then through training, and learning outcomes. And with that also brings a group of people together. And it is a three-to-five-year plan. It's not a 12-month overnight success, although we did take a lot of outcomes from the CRE Success training, Top Performer training. So yeah, I think there's probably a few different answers in that. But yeah, they all sort of aligned to why it worked.
Darren Krakowiak
That was great. And I really appreciate the opportunity to work with you and your team. And I'd love to know, was the program what you expected or was it not what you expected?
Brent Griffiths
I think parts of it were certainly. I think there was you never know, right? You never know until you meet the trainer, you meet the person, you go through it, you listen to the feedback that everyone in the room because I think we might have mentioned that sometimes the knowledge is also in the room. The trainer obviously can guide that knowledge, but it comes in the conversation, it comes in how people interpret the message. And that's kind of you never know what's going to happen until you're there in that room and on the on the day. And then also the way that the message is sent, whatever it's taught, whether it's prospecting, you know, whether it's client lists, whatever it is, whether it's social media profile, or profiling, what people were going to take out from it and that message as well. So, there were elements of things that I expected and certainly things that I didn't, and also, I suppose you know, things that might be important to me may not be important to someone that's been in the game longer than I have, or someone that's been in the game longer, less. So, yeah, definitely a diverse response.
Darren Krakowiak
So now, it's only been a couple of months since we wrapped up the final module, but what's been some of the value for you and your team from going through the program.
Brent Griffiths
So, it came in a really pivotal time for us. I think it worked really well, to be honest, coming at the end of 2022. So that we could get together and really understand what we were wanting to do and have a vision for 2023. So, in that time, everyone went away, and we've also funded basically for the next 12-months, which I don't know if many agencies have this. And I can honestly say my seven years that I haven't had this previously, but we've set out a 12-month program for our sales programs, sales meetings and how they work. And systems in place, we've also run a share meeting, which will run conversely, every second week based upon that for the next 12 months. A lot of the agents went away and basically realize where they want to position themselves as agents in the market. And that can be in value, it can be in sector, it can be leasing, it can be sales, whatever it was. So, there's a lot more understanding, greater understanding of that. I think every single agent has walked away with a prospecting plan and what that looks like to them and their team, which is amazing. And just general numbers of what it is that wanted to look at. We, at Realmark, and I'm going to have a bit of a plug here at Realmark. But there was obviously the first portion of the Top Performer was very much based upon mental wellness and well-being and being in the right mindset. And we offer for fully paid wellness days, so each quarter, as part of the Realmark initiative. So essentially, if there is one of our teams feeling that they're been under pressure at work or at home, we encourage them to take a day off a quarter, go play golf, go clear their head and make sure that they're in the right frame of mind to be at work. And I think that aligns well with that mind body soul, because it is quite a tiring job. So, I think that just sort of segues back into what we're doing here as well.
Darren Krakowiak
Awesome. Really pleased to hear about that alignment. When I speak to people, I like to understand if they could just describe the experience in one word, what it was like, and I'm putting you on the spot here. Is there a word that comes to mind to describe what the experience was like for you and your team of going through the program?
Brent Griffiths
One word I like, it's probably quite an interesting one. But the first thing that came to my head was 'evolution'. I don't know why. It was a bit of an evolving process. And whether evolution is the right word, but yeah, it was ever evolving, as the modules change, the conversations change and the feedback and how that's worked.
Darren Krakowiak
I think that's a good word to describe it. My recollection is that maybe some people, maybe not skeptical, but you know, they weren't sure if it was going to be a good use of their time. And I feel like people warmed up pretty quickly, particularly once we got into the prospecting material, and then people really started to engage more. So actually, I think 'evolution' is a great word. If you've got any advice for anybody who's either thinking of joining the program or a leader who's thinking of investing for their team to do the program, what would you say to them?
Brent Griffiths
Look, I give definitely do it. 100% give it a go. I think there's no such thing as there's no bad timing, the money you'll earn it back and whatever you spend, you earn it tenfold to get these guys and girls into a room and just to have some brainstorming, a conversation that's different from the day to day is 100% recommended and I guess I will do it again.
Darren Krakowiak
But I really appreciate the opportunity to work with you and your team and to play a small role in what you're building in WA with Realmark, thanks so much for talking to me today.
Brent Griffiths
Thanks, Darren. Thanks for having me.
----------
I hope you enjoyed today's interview with Brent. We got to find out which I didn't know about the expansion plans for Realmarks.
If you like the sound of what Brent's sort of building and what Realmark is all about, and you're not a dickhead because I've got a 'no dickhead' policy, maybe get in touch with Brent and see what their plans are there.
And if you're interested in Top Performer, it's something that we provide to our corporate clients.
But we also provide to individuals. Now, if you're a team leader, and you're interested in providing this training platform for your team, you can contact us via email [email protected].
Or if you're an individual and you'd like to invest in your own, I guess capacity and your own future and your own development and take part in the top performer program, it is available to individuals.
There are six modules in the program. We start off with Personal Excellence, we get into Purposeful Prospecting, then we go into Building your Brand, Ways to Win, Efficiency and Effectiveness, and finally, Client Accumulation.
We've got a page set up where you can register your interest and then we'll send you more information about the program. It is cresuccess.co/topperformer.
That is our episode for today. Thank you so much for listening, and I will speak to you soon.
Like this? You'll love what we share with our community every single week!
Join our mailing list to receive the latest news and updates from CRE Success.
Don't worry, your information will not be shared.
We hate SPAM. We will never sell your information, for any reason.