How to build a commercial real estate agency empire from scratch
Mar 01, 2023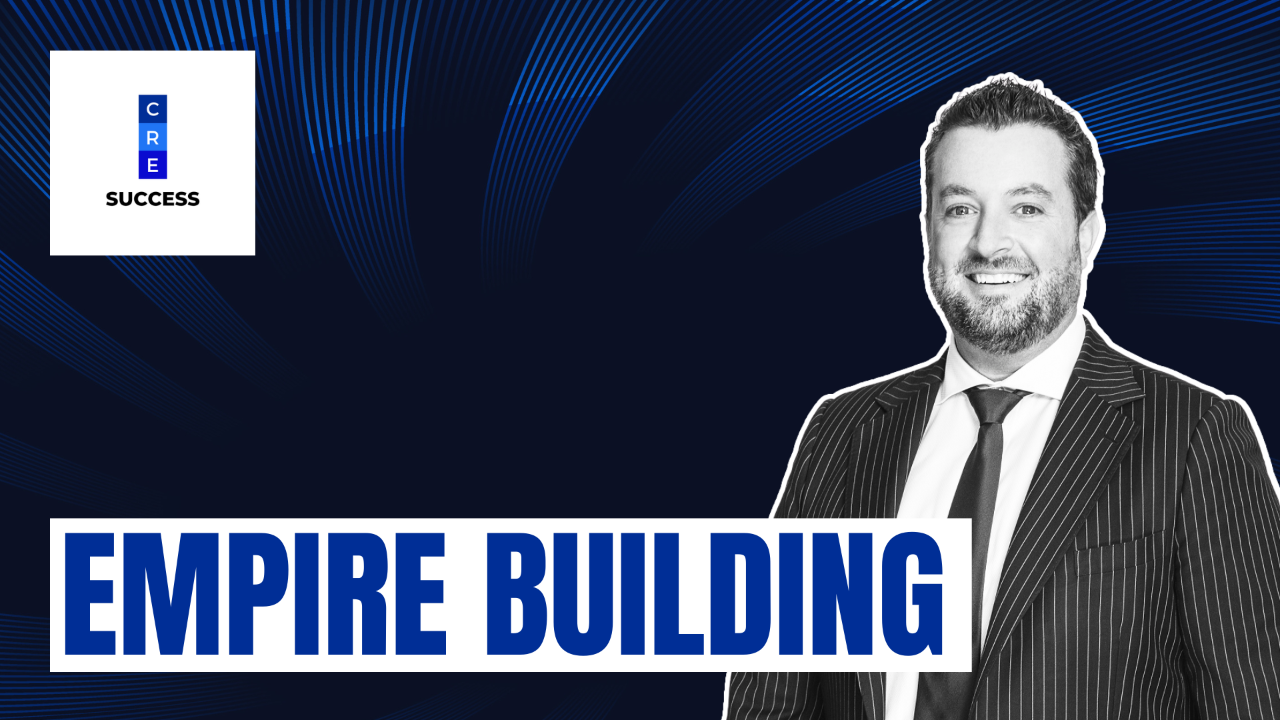 I met Daniel O'Brien back in 2020, the first time he was a guest on the podcast.
Since then, he's launched his own commercial real estate agency empire, X Commercial – incredibly, he's grown the brand from one to five locations across Sydney in less than 18 months.
Dan is a man on a mission…he is also on a personal and professional growth journey.
He's had a sales coach, a mindset coach, and another business coach that he still works with.
But instead of thinking he already knew it all, last year he got into a coaching relationship with me.
In our latest interview, we cover leadership, agency and Dan also describes how I've helped him in the way that he specifically needed it as a commercial real estate leader with big growth ambitions.
To see how an empire-builder thinks, listen to episode 129 of CRE Success: The Podcast.
And if Dan's story opens your eyes to what you may need some support with, leave your details here and I'll be in touch for a confidential chat to see if I can help.
Episode transcript:
If you want to know what it takes to grow a commercial real estate agency brand from nothing, zero to five offices in just over a year, then don't go anywhere.
We're going to be speaking to the man who has achieved that and has even bigger plans on today's episode of the show.
Hello, and welcome to CRE Success: The Podcast. My name is Darren Krakowiak. Really appreciate you being here.
I help commercial real estate leaders to develop their people and to grow their business.
And as part of the relaunch of the show, we are speaking to more guests. And we've got a great one for you today.
A guest who actually was a guest before on the show.
I've had the pleasure of working with Dan, as a client, on a couple of occasions last year and more recently, on a monthly basis in our one-on-one program.
He's worked for Knight Frank and CBRE and he launched his very own brand in July 2021.
----------------
Darren Krakowiak
Daniel O'Brien Welcome back to CRE Success: The Podcast.
Daniel O'Brien
Thank you, Darren, thanks for having me back.
Darren Krakowiak
It's great to have our first Boomerang, the first question I want to ask you is, who are you? And how do you help?
Daniel O'Brien
I'm Daniel O'Brien, I have a company called X Commercial. And I help people where our mission statement is to create wealth for our clients and our staff.
Darren Krakowiak
Awesome. So, we want to focus on three areas in today's conversation. We want to focus on your area of excellence, which I've identified as starting and growing a commercial real estate brand. Now you're a gun on social media, you're an awesome agent, and a great leader as well. But this is the area I want to focus in on today. We'll talk a little bit about leadership and agency as well. And finally, I want to talk to you about some of the work that we've been doing together with you as a client in CRE Success. So first of all, in your area of excellence, you've started up X Commercial, what made you do that?
Daniel O'Brien
I wanted to build my own business. So yeah, and I left a Franchise Group, which wasn't giving me any value. So, I thought I'd start my own brand. And yeah, that was just over 12 months ago now.
Darren Krakowiak
Okay, and why did you call the business X Commercial?
Daniel O'Brien
It was actually a working title. I couldn't think of what else to call this business I was going to start. So, I called it, I just said, you know, I called it X Realty actually at the start. And then that didn't sound right. So, I just said, well, let's just call it X Commercial. And you say things often enough to yourself, they start to, you know, grow, grow traction, and then it started to sound good. So that's why I call it X Commercial.
Darren Krakowiak
I like it. I love the branding, as well, X marks the spot on the map. It's less raunchy than triple X Commercial as well. So, I think you've got the right amount of X's there,
Daniel O'Brien
I guess, also is at the bottom of every treasure map, when you're a kid, there's you know, X marks the spot as the treasure. And I think we need to look at our clients' properties like that. And we've incorporated that into some of our marketing and IM's. With allocation maps, you know, there's always an X over the treasure. And that's their property. So yeah, thanks Darren.
Darren Krakowiak
Awesome. So, what makes you different? What is it that X Commercial can offer that other agencies can't?
Daniel O'Brien
We can offer ownership from the agents in who are seeking ownership. So, we know we give other agents like I was five years ago, the chance to break away and build their own business under an X Commercial banner. And that's one of the reasons. The other reason is we offer scalability for other partner offices to come in. So, they can come in with us and, you know, you go from having a 300 or 400 Management Property Office to having being part of a group that's got 2000 or 3000 Management's. So automatically, you get that scale, if you plug your business into the X Commercial model, and you don't get that if you're an independent on your own.
Darren Krakowiak
Yep. Well, in terms of scale, you've done an amazing job. You've gone from zero officers on the 30th of June 2021. I know you launched; I think it was the first of July 2021. Yeah. And you've gone from, where you started to five offices by October 2022, which is fantastic. So, congratulations on that. I should point out to our listeners who have either suppress their memories from that part of history or don't live in Australia, that was also a period where Sydney and Melbourne were locked down for about three or four months. So really, you've had 1 year of real operation. You've got it up to five offices, which is incredible. So, congratulations. I'm curious to hear what are your plans for continued growth of the brand.
Daniel O'Brien
So, we'd like to get more partner, I'd like to get more partner offices in. And we've got one partner office at the moment, our city fringe office. And that's a partner office where there the gentleman, there used to be an independent. And he saw the benefits in coming into X Commercial with us. And he's really appreciated that growth for himself as well, and the scalability that he's gotten. Now, I'd like to get more offices in and more partner offices. So potentially offices that are currently, you know, in a franchise or an independent boutique kind of office, to come and join us and get the scalability we offer. Because we are not a franchise. And we're not a global firm, obviously. But we have a lot of great benefits you get by joining us rather than going alone.
Darren Krakowiak
Maybe in 60 seconds, if you can, just explain to our listeners who aren't aware, what is the difference between being able to come on as a partner, as opposed to opening up as a franchise under one of the other brands that offer franchises in Australia?
Daniel O'Brien
Yeah, so I think what we offer is just massive value. If you're going to become a partner office, and we share a communal database, you have access to shared services that you don't get if you're another franchise. So, you've got a marketing director, we've got a sales trainer, we've got a recruiter, we've got valuer, we've got a finance broker, we've got all these people in house. So, you get access to that immediately if you join us. And I get being a business owner in a franchisor, a boutique agency, I get that you're not getting value, I understand it. And we've created X to cater for you. That you will and you will get massive value. And our partner offices are getting massive value. And I really want to get more partner offices in New South Wales over the next 12 to 24 months.
Darren Krakowiak
Okay, and what about the rest of Australia?
Daniel O'Brien
Well, I think let's just get our first 10 offices up and going and we've got five. And then once we have 10, then yeah, let's go to Brisbane. And let's go to Melbourne. And let's see how far we can take this.
Darren Krakowiak
Just a lazy 10 Just start with.
Daniel O'Brien
Just 10. Yeah.
Darren Krakowiak
Awesome. All right. Let's talk about leadership and also about agency. So, I want to hear from you. What do you think are the attributes of a great commercial agent?
Daniel O'Brien
You have to be consistent, then you have to be disciplined. You need to be persistent, as well as consistently persistent. If that makes sense. You also need to enjoy rejection. As weird as that sounds. To be a really good agent, you need to understand that they're not saying no to you. They're just saying no, I'm not ready yet. So, I think that's a great attribute. And most of the great agents are the guys who are on the phone all day long.
Darren Krakowiak
How long do you think it takes an agent to enjoy rejection?
Daniel O'Brien
Long time? I think six to 12 months, I think you should be used to it by them.
Darren Krakowiak
Okay. All right. What's the most exciting part for you of running your own business?
Daniel O'Brien
The most exciting part is watching everyone else work together and watching them succeed. The other most exciting thing is I had a team meeting with all the offices and last week and we've got 45 odd staff. That's cool, you know, standing in front of a group of 45 people that you know, is your own business. That's cool. Yeah. And that's exciting.
Darren Krakowiak
So, when I first met you a couple of years ago, you were operating your office in South Sydney, how many staff did you have at the time then?
Daniel O'Brien
We had about 12 or 13.
Darren Krakowiak
Wow. So, what's one lesson about leadership that perhaps you wish that you had learned sooner?
Daniel O'Brien
I wish I learned to talk last in team meetings sooner. And also, that you can lead from the back. You don't always have to lead from the front. Leading from the front is very energy sapping, as you will know yourself. And I think leading from the back and encouragement that I wish someone taught me that sooner.
Darren Krakowiak
When you say speaking last, is that so your opinions don't sort of reverberate and dominate and sort of give other voices a chance to speak or is there some other strategy behind that?
Daniel O'Brien
No, no, it's the fact that I'm not the most creative bloke and hearing other people's ideas is a really good way to find out. You know, take the temperature of the office, I guess, and to get some really cool ideas.
Darren Krakowiak
Fantastic. It's great too. So as CRE Success client of ours, you've been well, we did a little bit of work last year during the lockdown but you've been working with us in the leadership program for a few months now, what is it that made you want to start working with CRE Success? What was the reason why you joined the program?
Daniel O'Brien
I'm a big fan of your podcast, and I really enjoy listening to all your guests. And that's helped me engage with you in this kind of coaching relationship. I mean, I've had sales coaches, I've had a mindset coach, I still have a business coach, and I find you're a really good mix of all three. So, I appreciate the fact that after we first started, you took a look under the hood here and the business and I was, you know, showing you're comfortable enough to show you all my financials and my projections and really talk you through the micro. And you're very good at that. But also, you said, "Look, you're doing that, well, let's move on to something else." And you really identified what I was doing well, and what I could be doing better, and we're only focusing on the stuff that I can do better. So, I like the fact that you tailored it for me, because initially, you did send me that, you know, 12 pro-month program, and that was really good. And then after that you've really tailored it down for me. So, in terms of investment, I thought it's great value.
Darren Krakowiak
Awesome. Great value. Okay, good. Is the program what you expected, though?
Daniel O'Brien
I didn't know what to expect. But it's been extremely helpful. So, if that's an answer, yeah, the one-on-one with you, is very, very valuable for me.
Darren Krakowiak
Okay, and what's the value, if you like the direct value or the indirect value for you and for your business?
Daniel O'Brien
Well, their direct value is you told me a month ago, I've got too many direct reports. So, we fix that up. And I've got back half a day a week. So, I think that's direct. That's pretty direct. Yeah, that's worked. And, you know, there's things as you know, that we're still working on, but some tips like that, I didn't think of myself. So that was very good.
Darren Krakowiak
Okay, and what would you say to someone who's thinking about joining the program?
Daniel O'Brien
I'd encourage them to do it. I mean, you need a coach, but also you need a specific real estate coach. Like there are a lot of business coaches, and I've had a few, they don't get agency. They just don't. And you do and there's, commercial agency, you know, I'm not sure if anyone, I can't think of anyone else doing that at the moment. So, and let's face it, like if Roger Federer and Tiger Woods and all these guys have coaches, we're all not that great. So, we can definitely use the help.
Darren Krakowiak
Very good point. If you could describe for me in one word, or this is maybe a tough question, what's one word to describe the process that you and I are working through together?
Daniel O'Brien
Collaborative.
Darren Krakowiak
Okay, good. Thank you. All right. I asked one word; you gave it to me. Have any other thoughts about the process that you think would be helpful to, you know, for other people to understand about the program or about some of what you've already implemented?
Daniel O'Brien
I just think if you're a business owner and you don't have a coach or someone like yourself, you really know what, and it'll just allow you to learn from other people's mistakes, right? So, you don't make them yourself. I mean, that's pretty simple. And even if you do have a coach, like, I've got another business coach, but I'm using both of you, right? You give me specific commercial real estate, agency structure, tips, which I need. So yeah, I think that's my answer.
Darren Krakowiak
Awesome. And if people listening want to get in contact with you, if they're interested in learning more about X Commercial, if they're potentially interested in becoming your next partner office in New South Wales or beyond? What's the best way that they can find out more?
Daniel O'Brien
Call me, Text me, Email me. X Commercial. Check the website out. There's, you know, videos on there. But yeah, give me a ring. I would love to sit down with you and work out how we can work together.
Darren Krakowiak
Dan, thanks for being on the show today. Really appreciate it.
Daniel O'Brien
Thanks for having me. Again, thank you.
-------------
Thanks so much, Dan for being with us on the show. Fantastic to hear about everything that you've achieved so far, and all the other plans that you have for X Commercial.
Now, if you are curious, if you would be a good fit for the program that we've been working with Dan on from a leadership perspective, then go to cresuccess.co/leadership.
On that page, you can find out more information about the program and you can assess if it's something that could be helpful to you.
If it is, then we'll invite you to take that next step. Check it out at cresuccess.co/leadership.
That is our show for today. Thank you so much for listening. I will speak to you soon.
Like this? You'll love what we share with our community every single week!
Join our mailing list to receive the latest news and updates from CRE Success.
Don't worry, your information will not be shared.
We hate SPAM. We will never sell your information, for any reason.