A guide to 21-years of market dominance
Jul 12, 2023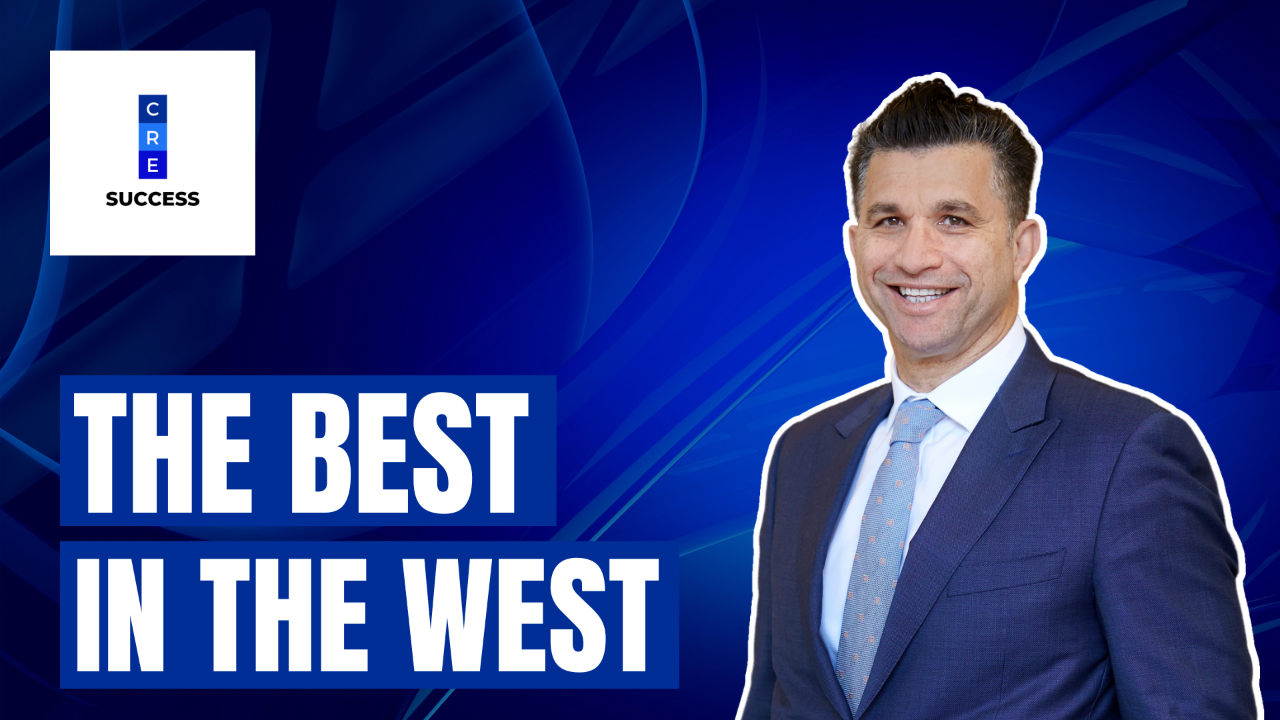 I recently had the privilege of interviewing Jim Tsagalis, the founder and managing director of Lease Equity, the leading retail leasing agency and property management firm in Western Australia.
Jim has been a client of CRE Success for a year now, and during our conversation he shared some valuable insights into establishing and maintaining a market-leading position for his business over the past 21 years.
Here are some key takeaways from the episode:
Constant Improvement: be committed to constant improvement. With a thirst to know the market better than anyone else, Lease Equity has been able to outshine the competition.
The Power of a Dedicated Team: Jim emphasises the importance of being surrounded by a dedicated team and finding the best assistance available.
Staying Relevant in a Changing Market: stay relevant by seeking expertise from the best in the market; learning from industry leaders and recognising your own skill gaps is vital.
Qualities of a Successful Retail Agent: active listening, technical knowledge, understanding market trends, and asking probing questions are essential for retail agents.
Leadership Matters: look for leaders with integrity, good communication skills, and who treat people with respect. Being willing to discuss efficiency, ROI and non-financial metrics also matters.
Learning and Growth: Jim's journey with Lease Equity taught him the importance of continuous learning. He looks to do things consistently well and believes that success is a habit in and of itself.
If you're serious about being an elite performer or a market leader, don't miss out on this episode which is packed with practical wisdom and actionable advice.
To learn more from The Best in the West, listen to episode 148 of CRE Success: The Podcast.
Episode transcript:
My special guest on this week's show is Jim Tsagalis, the founder and managing director of Lease Equity.
Lease Equity is the leading retail property services firm in Western Australia. Jim has been at the helm for all of its 21 years, and he's built it up to well over 50 employees.
And on today's episode of the show, we are going to be talking to Jim about the retail property market leading his own firm and what it's like to work with CRE Success.
Hello, and welcome to episode 148 of CRE Success: The Podcast. My name's Darren Krakowiak and I help commercial real estate leaders who want to accelerate growth in their business. Really appreciate you being with us today.
We're going to get right into our special interview right now with Jim Tsagalis.
--------------------
Darren Krakowiak
Jim Tsagalis of Lease Equity, welcome to CRE Success: The podcast.
Jim Tsagalis
Good morning, and how are you?
Darren Krakowiak
I'm doing very, very good. Thank you, Jim. Thanks for being there. Now, Jim, I want to talk to you about a few things today. First of all, about your business. Lease equity is the, I think most people would agree, the dominant player in WA in retail agency services, particularly in leasing and property management. Got a long list of shopping centers that you've been involved with from the master planning stage, to getting a project leased and then ongoing management. And one step that I love is that you've leased over 80% of the stock in the Perth, CBD. So, my question for you is, what's more challenging? Is it gaining that dominance or is it maintaining that position over a sustained period?
Jim Tsagalis
From my part it's the same. It's that constant improvement. The cup half empty, the thirst for knowledge better systemization, understanding. All of those things have been constant, I think, where it's difficult for people to maybe conceive is how does one keep the motivation over 21 plus years. And for me, I've had a wonderful group of people behind me, both family and team. And what I would say is I've sought out the best to work with me, the best assistance, in terms of EAs, and also looking at where the gaps are and saying, well, where am I deficient? Or, as the business has grown, how do I do the things I used to do very seamlessly? So, I got a full-time analyst working with me, and the like, so, and whatever I thought was a good idea, I've now got the means to really move that more quickly. Hopefully that answers your question.
Darren Krakowiak
Okay. I just want to, maybe use a sporting analogy for you because I know you're right into that. Do you play a little bit more defense than offense now?
Jim Tsagalis
No. I wouldn't say that. I would say, contextual to the moment and the period in time. There was a period, for example, you mentioned, the percentage market share we've got, there was a period some seven, maybe eight years ago where the market was very difficult pre the boom of WA. I took a very austere view, so we tilted towards major heavy project work which is very difficult, very time consuming. And that by necessity meant that the core team's focus on brokerage, which is what we do very well, diminished somewhat. That was a calculated decision. So, sometimes you've got to play on at all costs because you're in the 28-minute mark of the last quarter, and that's how the game's won. And other times you've got to man up at that particular point we were manning up. So, I try and contextualize it for the period. I love looking at things in a contextual manner rather than just what we are doing. So, where's the market? Where are we? Supply side, demand side, competitor side, and then we make our decision.
Darren Krakowiak
You just mentioned, 21 years of lease equity. Congratulations on that. What's the significance of that milestone for you, for your clients and for your team?
Jim Tsagalis
First of all, it's a time just to pause and it feels like I haven't paused or the business hasn't paused in that whole 21 years. So, it was time to pause and say thank you to every particular person that's worked at Lease Equity. So, we went back and we did a baggy green similarity. Every employee was given a number and for those longstanding employees, they were given a plaque, a commemorative plaque, as well as a gift. As well as a number, that this is where they played a part. And for those other people that have come and gone, they were also recognized either by call or electronically. And the clients and other partners like architects, councils and the like, were recognized. So really just a time to acknowledge everyone's support, but then also to reset and say, what did we do well? What didn't we do so well? And what does the next 21 years look like, believe it or not.
Darren Krakowiak
Well, that last point, I think leads me to my next question, which is the changes that have occurred in the retail market, not just in these post covid years, but really over the whole period that Lease Equity has been around, and no doubt there will be more. So, when you think about staying relevant and at the forefront of these changes, what comes to mind for you to provide your clients with the best possible advice? How do you do that and remain relevant from your client's perspective?
Jim Tsagalis
So, for me, it's always finding the best in market, whatever it is, whether it's accounting advice, whether it's the leading broker in Sydney, the leading broker in Melbourne, the preeminent property firm in New York, wherever that might be. Seeking out that expertise, asking that expertise. If they would be so kind as to me, and I might say Darren, on many occasions, we might be so much bigger or more transactional, whatever it might be in quantum, but there might be something that we think we can learn. So, I was in Adelaide yesterday for a day. I sought out a couple of people and spent an hour with them, two different parties, and it was really just a learning exploration, sharing exercise. The last time I was in Sydney, there was an agent that had reached out to me wanting to know something. I took the time, this person was in their mid-thirties, starting their career. We've started with quasi mentoring. It was in reverse, but he is been so generous with some stuff he shared with me. And I guess, you know, you asked me, what do we do? It's seeking out the best. And that's not always the biggest and fastest, and it's not always indirect real estate. So, I'm across a number of things. I'm a member of the Entrepreneurs Organization. it's peer to peer global learning. There are just some wonderful learnings there from some startups to some very large businesses. Spent a lot of time. I spent three hours last Saturday, doing some visioning with my accountant, and again, sort out the very best accountant for where I'm at and where the business is at. And I know we might talk about it a bit later, talking to you, Darren, and you came into my life, and probably surprisingly for you. You might have thought that, you know, you could train my team. And I said, no, no, you need to train the coach as well. So, it's finding the best in class and I would say being intellectually humble. You don't have all the answers. You got a lot of them, but you don't have all the answers. And understanding their relevance. And last thing I'll say on it is the great people in whatever they do have a way of putting maybe the same message. A different way at a different time and it resonates. So just understanding what your own skills gaps are, or where the growth potential is, exploring it, and you'll find a match in some of that information that's out there.
Darren Krakowiak
Got it. In your travels speaking to many great retail agents around the world, it sounds like. What have you noticed makes a good retail agent, and how does that differ, if at all, from a good commercial office or industrial agent?
Jim Tsagalis
So, I think in any agent's capacity, we are dealing in a segment where there's a user of the space, whether it's industrial, commercial, residential. So, I don't think it differs. Although it can be more complex in retail, because retail and to a large extent industrial, the location has a very positive linear relationship to the success of the business. So, you know, location, location, location. So, if it's a McDonald's, major arterial blue road right in, left out, left in, all of that, dense population, all of that. So, that's a common thing. But understanding the user's requirements, being a very active listener, people would confuse most real estate, successful real estate agents as being talkers, having little knowledge, but small talk if you like. Yes, they've got to be able to sell, but the technical toolkit that you develop over a period by asking active questions is important. I think, reading, in fact this morning, I was researching some stuff and, and you know, it's pretty easy today with Google and whatever else. But learning about market trends, learning about what makes something tick, makes you much more powerful cause you've then got a technical understanding of the tenant requirements and those active questions. For example, I'll often get asked by people tell us the average rents of a neighborhood shopping center. And I'll often say, give me the wits, give me the depths, give me the geography, give me the majors, give me the location, give me the context. And it sounds like I'm avoiding the question. I'm not. I'm trying to give you really specifically good feedback. So, in the Perth context, if you tell me your neighborhood shopping's are on Sterling Highway in Netherlands, I'm going to give you quiet, and it was a typical, sea of parking at the front door, walking straight into a Coles, or a Woolworths of 4,000 meters. That would be a different answer to a hundred and a supermarket in Perth, Blue Collar, 1500-meter IGA. With 10 specialties, and where the major doesn't need to be accessed through the specialties. Again, that's experience talking, but I can give you a general answer, but I can give you a really good answer based on all that market knowledge and technical, so that's in all segments, how one becomes good at what they do. Marketing real estate, where it's a bit different to. I think cars or boats or whatever it might be. Large purchases and even to a certain extent, homes, but not always. There's an emotional bit to that. You actually build and can assist in putting the kit together that gets used to complete a transaction. So that might be in a development, it might be telling the landlord they need to remove some pillars in the building. They need to refurbish it, it needs escalators, it needs the more widths wider or whatever. All of those things are technical knowledge that goes a long way toward being a successful agent and it takes time.
Darren Krakowiak
Yeah. I guess as your business has grown, you not only need to find good agents, but you're at that point obviously where you also need good leaders around you. So, what are the key attributes you are looking for when it comes to your leadership team?
Jim Tsagalis
It's not always necessary to have the best technical toolkit to be a great leader. Technical toolkit being in real estate, it's an interesting phenomenon that historically, and particularly in commercial real estate agencies. Usually, the MD historically has been a capital transactional person. More recently, more and more businesses have had a more methodical, or at least ostensibly methodical property management person. But putting that aside, and I'll come back to it, what you need is people that have got integrity. They're good communicators, they're concise, they're not afraid to speak to the fundamentals of what is our why and what is our client's need. So, my why is to give the clients the best advice possible to either add value or retain value. And also, to be remunerated for it fairly. Now, coming back to what I said before, capital transactions, people can be confused as being just salesmen. I would put to you good capital transactional people have to assess the value of an asset, where the growth might be, where the issues might be. How to present it in, it's in its best form. Understand all the objections that might come forward. Understand a bit about legal, a lot about growth, bit about funding, who can do it, why they can do it, how they can do it, for that reason, some of that way of analyzing how to sell big assets. That's why a lot of people go to a commercial real estate company, either want to buy or sell something, then they want it managed. I think a little, a bit of that's been lost in a lot of the major agents are listed and because they're listed, they've got non-financial criteria to meet gender equality. And other things like work from home criteria and whatever, which are all valid and we should all do them because some of the investors in that stock want to have an ethical investment strategy. However, if you look at all these companies, it's all about the return. So, I'm not for one moment suggesting that the return should always trump efficacy and a lot. But going back to the leadership piece, the leader shouldn't be afraid to talk about. It's all about efficiency. It's all about us getting a return on investment for ourselves and our clients. Having the potential to acknowledge that vulnerability can be a strength to explain to people that this is difficult or this is something we need to get better at. So, I think there's a lot in leading a real estate agency that. More than the technical tool bag that one might have. But as I say, if I'd summarize it, it's integrity, it's honesty, it's understanding that, you know, why do a client, why does a client appoint us and not hide behind, a whole lot of non-financial metrics that the client wants to use us for, but we should still stay very true to what is important to us, how our, you know, how our staff are treated, et cetera. So that stuff's really important.
Darren Krakowiak
A lot of accumulated knowledge in those last two answers about the qualities of agents and leaders, whether it might be something related to that or it might be something different. Can you think of something that perhaps you know now, but you wish you had known sooner about running your own business.
Jim Tsagalis
Tomorrow is going to come. And if you do all the things well, all of the time or most of the time, pardon me, tomorrow will come. And what I mean by that is a lot of people are driven by fear of failure, and I'm one of them. And you question, will it be this? Will it be that? Will it get to this? Will it get to that? And the truth of it is you set, audacious goals quite often. I've been a perennial underachiever in that regard. I very methodically, Darren, as you know, set 5-to-10-year goals rolling. And they're set against a lifetime goal path, which is personal and business. So, it might be number of staff that might be, whatever for me, it's been, I want to manage a sub-regional shopping center in the early days. I personally wanted to transact supermarket leases. When I set that goal, I thought if I could do one or two, I've made it. I'm up around 30. I thought if I could transact with this with full line department stores, I've done three. My point is I've done them all, maybe 20 or 30% later in the timeframe, I'd give them myself and that tomorrow will come piece if I'm doing all the things, and I'm very mindful and I keep going back to what my goals were and what will make those goals. Realities or visions realities, it's, you know, really important to just, I talked about context before and that's super important, but so is having a single-mindedness, you know, whether it's you, failure's not an option, whether its failure is a teacher, whether it's I'm in it for the long haul and the long runs made up a whole lot of short runs. And I'm going to have some wins and losses. For example, I was saying to one of my team members today, why is it that when something goes wrong, we just beat ourselves up and, and we say, oh, we're awful, and three people have left, or two clients have left. But yet when we win business, we say, geez, you know, that was good. And we move on. So, we, we really celebrate failure more than success. And there's a lot in that. There's, you know, you don't want to gloat, you're always worried you're on the edge, but it's not a bad thing to look at the cup half empty. But every now and then, just understanding that it's part of the journey and that tomorrow will come. And the last thing I'll say on it is I always say to the team, if that's the goal that you've set yourself, are you willing to pay the price? And for different people that price is a different amount to the super talented, you know, analysts who's got all the, all their spreadsheeting skills and, analytical skills. The price they might pay is, or they might think the price is, well, if I'm here for three years, I'll go to the next level. Well, the price might be, they're not great communicators and they've got to go at night to a Toastmasters course and they've got to present in front of the crowd, and they're very intimidated, and that's really uncomfortable. The price I might have to pay is I have to do my homework every Sunday night from seven till 10. For the forthcoming week to be prepared for the unexpected. And if I don't want to pay that price habitually, you know, that might be difficult. The other thing I should say is in all of that, successful people are habitually successful. They do things that that lead to outcomes. So tomorrow comes. But the flip on that is so unsuccessful people. They are habitually doing things that lead to the wrong outcome or not the desired outcome. And I think all of us have got a cocktail of that. You know, whether it's eating habits, working habits, whatever it is. So, it's just being really honest. And then tomorrow, I think does come as long as you set your goals. And the reason I set them, Darren over a very long period is I have every intention of achieving them and if I miss the premiership window, I'm going to be there to play in the next one. I just want it to come sooner because one thing's for sure that time horizon isn't infinite, but it's significant.
Darren Krakowiak
Wonderful. Thank you for sharing all of that. There were so many things I could have asked as follow up questions, but I'm mindful of the time that we have, Jim. I want to ask you about the work that we've been doing together. What was the reason that you decided to work with me and, and why did you decide to basically give this a go and get started?
Jim Tsagalis
I'm going to answer it this way. I spoke to my three daughters, two of whom are in property development. My son-in-law who's an investment banker, and my daughter who's a litigation lawyer. The reason I say, mention all those people is so you get some context that they're intelligent, they're on their journey. They're all 20 somethings. And I had said to them that they all need to top up whatever learnings, formal and informal that they could. And my youngest daughter, who's in property development said, "Dad, I noticed that you've taken on a coach in the real estate area, jokingly, what could he or she teach you?" And I said, well, grasshopper. The kung fu style. I want this person to do work with my team, but I also want to understand about his process. And in addition to that, I think in a quiet moment, I know every step or almost every step, but you know what, I'm not applying it enough. What I've talked about previously about the habits, and about the voices that are heard and about good process and about getting better at one does, it just led me, you and I spoke, and you probably thought this guy's impossible to nail down. The view I took is if you're an elite tennis player or you're an elite golfer, your coach doesn't have to be an elite performer. They have to be an elite coach. Now you might be both, and that does happen. So, for me, it was about entering the program of I expected it to be just ticking off the things that I need to get back to more habitually, but it's become more than that, Darren. It's also become eye-opening in some regards. Taking me down a different path of reflection, and got me thinking a different way, thought provoking. And as I said to my daughters, that intellectual humility I talked about, bang on really. This afternoon I'm going with one of my team to how to calculate the profit of a business. Now, I don't need to do that in terms of, I know my stuff without business really well, but I'm going along to that because I want to sit with my colleague, help them get to the next level of leadership and thinking. And if I go back to your thing, It's been really thought provoking and for me it's given me an opportunity to become a little bit more focused and we're devoting an hour or so a month, and then some outside of it. So, it's really important and what I know is if I'm going to devote an hour of my month or more bit of homework and I'm paying for it, I'm going to respect it and I better get 10 x out of it. And so far, that's all happened. So, for all those reasons, it's been really important for me to be part of a program and get the feedback. And as you know, I've encouraged you as a disciple on my side to say mate, tell me what you think. Tell me apart from the prescriptive learning, give me some feedback on what you do, which is really honest, unfiltered, unbiased. And if anything, you want me to get better because I've become a potential client in the future and an ambassador. And that's exactly how it's gone, Darren. And from my perspective, I go back to my girls and say, well, guys, at your young age, you need to get your top ups because when you're leaving, you're making it up as you're going along. And sometimes you need to go back and do the Excel course or whatever to go to the next level. In my case, it's real estate fundamentals and some.
Darren Krakowiak
Is there a word that comes to mind that you could use to describe the process that we've gone through together?
Jim Tsagalis
Focus.
Darren Krakowiak
Thank you. Final question for you, Jim, is what would you say to somebody who's thinking about joining the program, what would your advice to them be?
Jim Tsagalis
I would say you should, everyone needs to be coached in some way and without, you know, talking about coaching as being motivational, per se. So, if you've got, first of all understand what the coaching is, then, take some time and if they want to reach out to me, fine. Reach out to someone else, speak to you, do some dating before you decide you're going to get each. And then I would say you're going to, you know, think about what your takeout's want to be. And you're going to get some best practice learning. So, at the very least, you're going to walk out with some really good benchmarking. At the very best, you're going to get some self-discovery and some gap analysis on your, your own leadership running of a business inventory. And for those reasons, it reasons it's well worth going through the program. And as much as I said, it's a significant devotion of time. It's not really, it's an hour a month, that could be 10 or 12 x on income. And at the very least, it's going to put you in a much better mindset to be running your business on a monthly basis. And your Johari window or your blind spot is going to be focused on one of the things, Darren. It's hard to say to you or to you maybe to receive it. One thing I think you're really good at is you don't come from a judgmental point of view. You are putting out what works, and you're not putting it out as the only panacea. You're putting it out as a, you might want to look at this and this is something that might work. And you follow up and you listen, which for most business owners, they don't have the luxury of having people that, first of all, they've got a toolkit to respond about the leadership and the running of the business, and secondly, can put some empirical data around it and then follow up with, well, here's an idea that I've had before. Here's a book, here's a profit sharing. Here's this. For all those reasons it gets you pretty focused.
Darren Krakowiak
Well, Jim, it's been a pleasure working with you so far and I'm looking forward to continuing the program that we're already on. Thanks for joining me today on CRE Success: The Podcast.
Jim Tsagalis
Thanks for your time, Darren. My pleasure.
--------------------
I hope you enjoyed our interview with Jim. If you want to know more about the program that Jim and I have been working through, it's called CRE Suite and it's especially for leaders of commercial real estate agency businesses.
To find out more and to see if you are a good fit for the program, the next step to take is to go to cresuccess.co/leadership
Go to that page, fill out the form, leave your details and we'll get back to you. And we can have a private and confidential discussion about what working together looks like.
That's our episode for today. Thank you so much for listening. I will speak to you soon.
Like this? You'll love what we share with our community every single week!
Join our mailing list to receive the latest news and updates from CRE Success.
Don't worry, your information will not be shared.
We hate SPAM. We will never sell your information, for any reason.